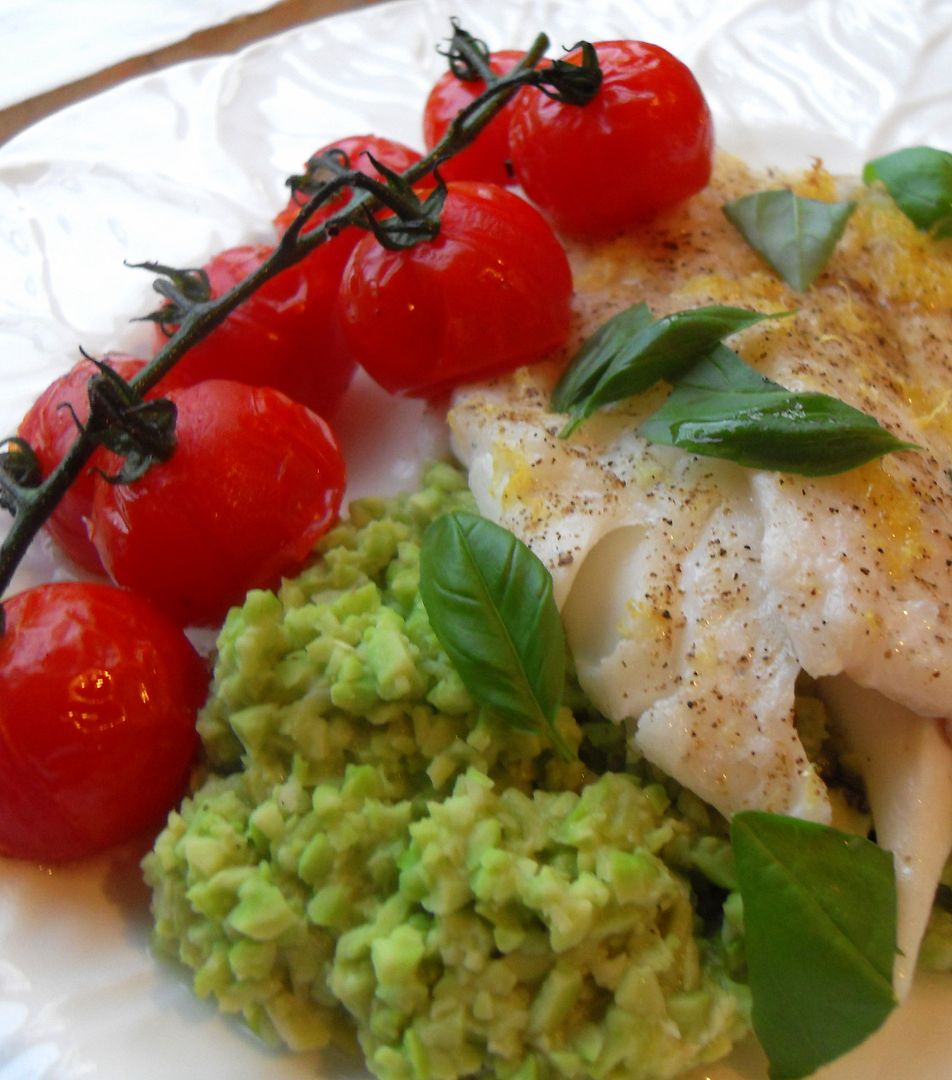 This gourmet recipe come from The English Kitchen, a delightful blog, about British cooking from a Canadian living there. As I Brit, I really enjoy this blog as it highlights just how good British food is….
Sometimes I like to eat healthy . . . well . . . a lot of the time I try to eat healthy. I just love fish, especially cod and haddock. I am not that "in" to Mackeral or other strong oily fishes, although I do enjoy salmon from time to time.
In my family, we always ordered English fish and chips whenever we went out to eat – there was never any question. We very rarely went out to eat, and when we did we really fancied a treat, so fish and chips fit the bill perfectly.
I am afraid that I still order fish and chips most of the time when I eat out, cause . . . well, you just can't teach an old dog new tricks; I happen to really like them! The best chips I have had over here were in Liverpool . . . crisp, fresh, wrapped in paper from a chippy in the down town area and liberally doused in salt and malt vinegar. The best fish has been from a fish and chip shop on the Blacon parade of shops in Chester.
I digress however . . . fish and chips are not healthy, and the fish that I cooked for us today was.
Moist, flaky, and lemony. Served on a tasty bed of edamame mash and garnished with some tasty roasted tomatoes and torn basil leaves, this went down a real treat.
*Lemon Roasted Cod with Edamame Mash*
Serves 4
Printable Recipe

This is lovely. Tender flakey and milk cod sitting on a bed of tasty basil flavoured edamame mash. Tomatoes and Cod are perfect partners.
Ingredients:
4 small bunches of cherry tomatoes on the vine
2 TBS lemon olive oil
4 chunky cod fillets
the zest of one lemon, plus the juice of one lemon
1- 480g pack of frozen edamame beans
1 fat clove of garlic, peeled and cut into chunks
1 bunch of basil, the leaves and stalks separated
200ml of hot vegetable or chicken stock
Method:
Pre-heat the oven to 200*C/400*F. Lightly grease a baking tray.
Place the tomatoes on the tray, rub with a bit of oil and then season lightly with sea salt and cracked black pepper. Roast for 5 minutes, or until the skins begin to split.
Add the fish to the baking dish and top with the lemon zest. Season with some more salt and pepper and then drizzle with a bit more of the oil. Roast for 8 to 10 minutes, or until the fish flakes easily with the tines of a fork.
While the fish is cooking, cook the beans in a pot of slightly salted boiling water. Cook for 3 minutes or so, until just barely tender. Drain well. Place into a food processor along with the basil stalks, lemon juice, the remaining lemon oil, and the stock. Pulse to mash into a thick coarse puree. Season to taste with some salt and pepper.
Divide the bean mash between 4 hot serving plates. Top each with a filet of fish and divide the tomatoes equally amongst the plates. Scatter the basil leaves, torn, over top and serve.
And this is actually good for you.
Lemon Roasted Cod With Edamame Mash