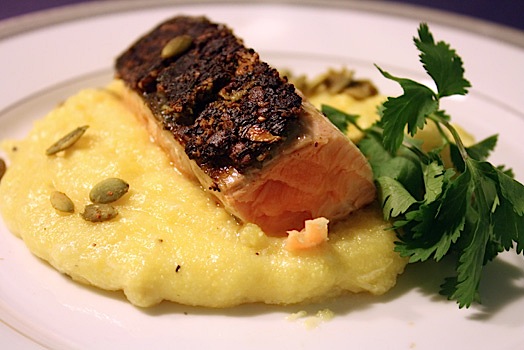 The following recipe comes from
healthy delicious
a wonderful blog filled with gourmet, easy to prepare and healthy recipes.
I decided that I wanted to try something with pumpkin seeds – pepitas – and thought that a pesto would be nice. I encrusted some salmon filets in a mixture of sun dried tomatoes, spicy pepitas, and cilantro and then cooked it until it was crispy on the outside and coked to about medium inside. The rich and spicy flavor of the salmon paired perfectly with a soft, creamy polenta. The completed dish had a Mexican/ South American feel to it, while still seeming very upscale.
Salmon With Sun Dried Tomato Pesto and Spicy Pepitas
Ingredients:
1 

Tbs butter

1/2 onion, minced

1 bay leaf

1 cup cornmeal

1 ounce queso oaxaca or mozzarella

1 large handfull cilantro

3 Tbs spicy pepitas (see note above)

1 Tbs olive oil

1 lb salmon, cut into four filets
Method:
Melt the butter in a large saucepan. Add the onion and cook until it is softened.
Meanwhile, bring 5 cups of water to a boil. Add boiling water and bay leaf to the softened onions. Whisk in cornmeal. Lower the heat and allow the mixture to bubble and thicken. Stir constantly, until the mixture is smooth and not gritty (this might take up to 30 minutes). Remove from heat and stir in the cheese.
Meanwhile, pat the salmon dry and let it rest while you prepare the pesto.
In a small food processor or mini-chop, combine the sun dried tomatoes, cilantro, and 2 Tbs pepitas. Process until a thick paste is formed. Spread the paste in a thick layer over the skin of the salmon.
Heat the olive oil in a large pan. Add the salmon skin-side down and cook until crisp – about 6 minutes. Turn and cook until pink in the center – another 3-4 minutes.
Spoon the polenta onto 4 plates. Top with salmon and garnish with a sprinkling of the remaining pepitas and some cilantro.
Serves 4.
Approx. 374 calories, 17 grams fat, 3 grams fiber, 27 grams protein
Salmon with Sun Dried Tomato Pesto over Polenta