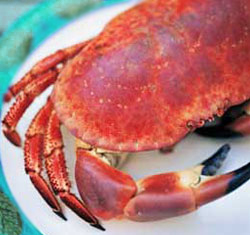 This is a light and beautiful dish, perfect for springtime brunches or those first outdoor meals of the season.  If you don't have access to good crab, try substituting shrimp or salmon.  Even smoked salmon can be a delicious alternative to the sweetness of crab.
You will need:
1/4 lb. fresh asparagus, trimmed and cut into 2-inch spears
1/4 lb. snow peas, rinsed and chopped in half (green peas will work – discard the pods or use the frozen, bagged variety)
2 small carrots, peeled and thinly sliced
3 c cooked rice – I like to use leftover rice for salads, but freshly steamed will work just as well
1 plump ripe slicing tomato, or two roma tomatoes, finely chopped
1/4 cup minced parsley
3/4 lb. crab meat, precooked (or steamed directly before assembling the salad)
sprigs of basil, chives, and tarragon for garnish
1/4 c olive oil
3 T lemon juice
1 tsp mustard
2 tsp minced thyme, chives, and basil
salt and pepper
1.  Combine the last four ingredients in a small bowl and whisk them together to make the dressing.
2.  Bring a small pan of water to a boil.  Have a bowl of ice water on hand for blanching.  Add the asparagus to the pot once it boils, and cook for one minute, or until the color brightens and they are soft but still have some crunch to them.  Remove with a slotted spoon and dunk in the ice bath.
3.  Repeat with the peas and carrots, cooking each just until tender but still crunchy.  Drain the cooled vegetables well.
4.  Mix together the rice, cooked vegetables, tomato, parsley, and crab.  Drizzle with the dressing and stir gently to combine.  Serve on chilled plates with herbs for garnish.
Optional add-ins: very thinly sliced raw celery, water chestnuts, chunked hard-boiled eggs, sunflower seeds, and chopped scallions.
Spring Crab Salad with Rice