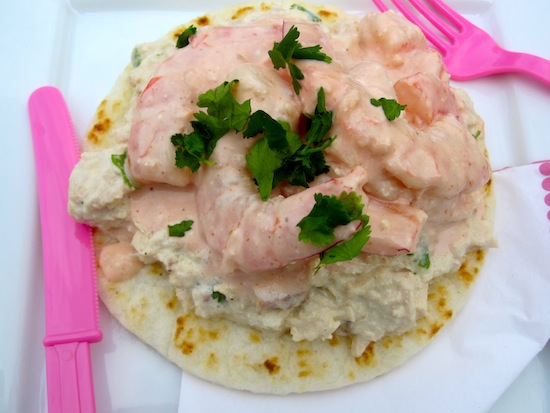 The following recipe comes from My Columbian Recipes:
Ingredients
(4 servings)
4 cooked arepas
Tuna:
2 tuna cans
1/2 cup mayonnaise
1/4 cup chopped onion
2 tablespoons chopped parsley
2 tablespoons lemon juice
Salt and pepper
Shrimp:
16 cooked shrimp
3/4 cup mayonnaise
3 tablespoons ketchup
1/2 teaspoon hot sauce
1 tablespoon chopped onion
3 tablespoons chopped cilantro
Salt and pepper
Juice of 1/2 lime
Directions
For the tuna: Mix all the ingredients in a medium bowl. Season with salt and pepper to your taste.
For the shrimp: Mix all the ingredients together in large bowl and let it sit in the fridge for at least an hour.
To assemble: Place the arepas on a serving plate, top with tuna and shrimp. Sprinkle cilantro or parsley and serve immediately.
Arepa with Tuna and Shrimp